The HIA process is being used in many places around the country to help decision makers understand the tradeoffs of certain policies, plans, and projects, by providing objective information about the potential and likely health impacts (both positive and negative).

In partnership with the DE HEAL Coalition and the Governor's Council on Health Promotion and Disease Prevention, Delaware Greenways is working to bring health to the forefront of decision making, through Health Impact Assessment (HIA). A grant from the Association for State and Territorial Health Officials, funded Delaware's first HIA - an assessment of the Fort DuPont Master Plan and Feasibility Study, managed by Delaware Greenways with support from the DE HEAL Environment and Policy Committee. The funding also made an HIA training workshop possible (featured at right).

The HIA of the Fort DuPont project was conducted from October through May 2013, separate from, but aligned with the Fort DuPont master plan and feasibility study managed by DNREC and their consultants.
Read the HIA Summary Report here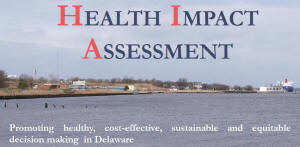 Resources for HIA of Fort DuPont project: (PDF Format)
HIA press release
Fort DuPont HIA Advisory Meeting #1
Fort DuPont HIA Advisory Meeting #2
HIA Training Day #2
Fort DuPont HIA Advisory Meeting #3
Fort DuPont HIA Advisory Meeting #4
Fort DuPont HIA Advisory Meeting #5
Building Capacity for Health Impact Assessment in Delaware
On Feb. 19 and 20, 2013, trainers from the Climate and Health Program of the Minnesota Department of Health presented the HIA process and strategies to over 40 Delaware participants from state agencies, non-profits, and elected office. Resources from the training and other HIA materials are provided below.